Staff
The size of The Temple requires a number of professional staff to deliver the many services and programs we offer our members. Combined, our senior staff have over a century of experience, and most of our two dozen full-time professional staff have worked at The Temple for many years.
Our staff are available to handle all non-religious needs of our members. From the realm of education to programming to facility rentals, we seek to provide the highest level of service to the 1,500 families and outside organizations that avail themselves of The Temple every year.
---
Mark Jacobson
Executive Director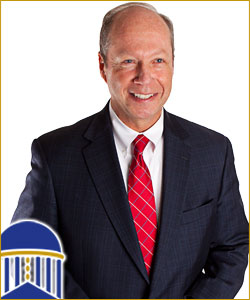 Mark Jacobson has been Executive Director of The Temple since 1977. A native of Atlanta, Mark received his B.A. degree from Tufts University and earned his M.B.A. from Georgia State University's Executive M.B.A. program.
Mark served on the Reform Pension Board for over eight years. The RPB serves congregations affiliated with the Union for Reform Judaism as well as the institutions and professionals of The Reform Movement. He chaired the Administrative Committee and served on the RPB's Executive Committee.
Mark is a past Vice President and Board member of the National Association for Temple Administration and chaired the NATA Consulting Service, a joint program of the Union for Reform Judaism and NATA. He is a frequent presenter at conferences and conventions on synagogue management subject matter.
Mark has served as President of Peachtree Corridor Congregations. He is a past Board Member of Atlanta's oldest and largest AIDS service organization, AID Atlanta. Jacobson is a 1994 graduate of Leadership Atlanta.
Mark is married to the former Susan Harberg of Houston, Texas.
---
Katie Bass, Communications & Marketing Coordinator
Melinda Brackin, Accounting Manager
Amy Cox, Accounting Staff
Tena Drew, Membership Manager
Nalo Grant, Clergy Administrative Assistant
Lonnie Fitzgerald, Maintenance Team
Dan Fishman, Audio Visual Manager
---
Elizabeth Foster, Jewish Identity & Experiences Educator
As the Jewish Identity & Experiences Educator, Elizabeth coordinates many different aspects of our education and family programming including Machon Noar, our High School Religious School program and Project Connect, our high school small groups program. She also plans and leads trips for our 7th-10th graders. Additionally, Elizabeth coordinates our family programs, all school programs, and many of our Religious School logistics like calendar and communication. You will even find her tutoring B'nei Mitzvah students and teaching Hebrew 101 to adults during the week.
Elizabeth is originally from Cincinnati, Ohio where she was a member of Wise Temple. She attended Indiana University where she studied Jewish Studies and Religious Studies. Throughout high school and college, she was active in her youth group at Wise, NFTY-OV, and Hillel.
Since Elizabeth has been in Atlanta, she has served on the board of Jewish Family & Career Services, on the AJFF Selection Committee, and was a PAL for five years. She also graduated from the Florence Melton Adult Mini School. She is active in the youth worker scene attending the biennial Youth Engagement Conference and helped in the formation of RYPA, the Reform Youth Professionals Association. She is now a member of ARJE, Association of Reform Jewish Educators and serves on planning committee for their annual gathering.
Elizabeth joined the Temple team in July 2006.
efoster@the-temple.org
---
Rebecca Good, Hebrew & Jewish Life Educator
Summer Jacobs, Engagement Coordinator
Summer was born and raised in Voorhees, NJ and attended a Solomon Schechter Day School. She is an alumni of Taglit-Birthright Israel, and attended Green Mountain College in Poultney, Vermont, where she earned a BA in Environmental Studies.

Prior to The Temple, Summer was the Assistant Director of Community Engagement at Congregation Rodeph Shalom in Philadelphia, as well as the Director of Development at Politz Day School in Cherry Hill, NJ, and the Education Program Coordinator and Youth Director at Ahavath Achim Synagogue.

Summer lives in Atlanta with her husband, two young children, and her dog, Comet. In her spare time, she enjoys focusing on health and wellness and creating meaningful community. Summer looks forward to integrating her love of people and Judaism by strengthening Jewish connection for people of all ages.
Please come introduce yourself – she would love to meet you!
sjacobs@the-temple.org
Renaldo Lockwood, Maintenance Team
Heather McKerley, Accounting Staff & Facilities Maintenance Coordinator
Jacqueline Morris, Engagement and Education Associate
Dianne Ratowsky, Administrative Assistant to Senior Rabbi Peter S. Berg
Joya Schmidt, Engagement Administrative Assistant & Tour Coordinator
---
Sarah Shinksy WELC Director
Sarah was born and raised in Attica, Ohio. She graduated from Heidelberg College in Ohio with a Bachelor of Arts degree in Early Childhood Education and has completed the Georgia Director Training.
Prior to her role as the WELC Assistant Director at The Temple, Sarah served as our Camp Minimac Director and taught Pre-K at the Weinberg Early Learning Center for over 10 years, after teaching at the Chabad Academy of Greater Daytona, Florida for a number of years.
Sarah and her husband, David, live just south of Atlanta. Sarah is excited to join the WELC administration and looks forward to working closely with her colleagues and Temple families. She loves being a part of The Temple and WELC family.
---
Laurie Simon, Engagement Coordinator for Special Events

Laurie grew up in Minneapolis, Minnesota, where her family were active congregants at Temple Israel. She attended Herzl Camp in Wisconsin, and is an alumnus of Alexander Muss High School in Israel. She later attended the University of Kansas and the University of Minnesota.

Prior to her role with The Temple, Laurie spent over a decade in the food & beverage and hospitality industries, most recently as a special event planner with Bluming Creativity in Atlanta. She enjoys bringing unique and clever ideas to the planning process, while helping to create meaningful and memorable events for the community.

Laurie and her husband, Robert, moved to Atlanta in 2009, and they reside in West Midtown with their two daughters, Vera and Daphne.
lsimon@the-temple.org
Lt. Justin Strom, Head of Security
Marjorie Vaughn, Education Administrative Assistant, BEC
Rita Zadoff, Donation & Event Coordinator
Tue, August 11 2020
21 Av 5780
Update
Today's Calendar
---
Upcoming Programs & Events
---
This week's Torah portion is

Parashat R'eih
Erev Rosh HaShanah
View Calendar
this content.
Tue, August 11 2020 21 Av 5780